'New Challenges – New Opportunities #Stayhome' - With EU Support CENN Organizes Covid-19 Webinar Week
03.April.2020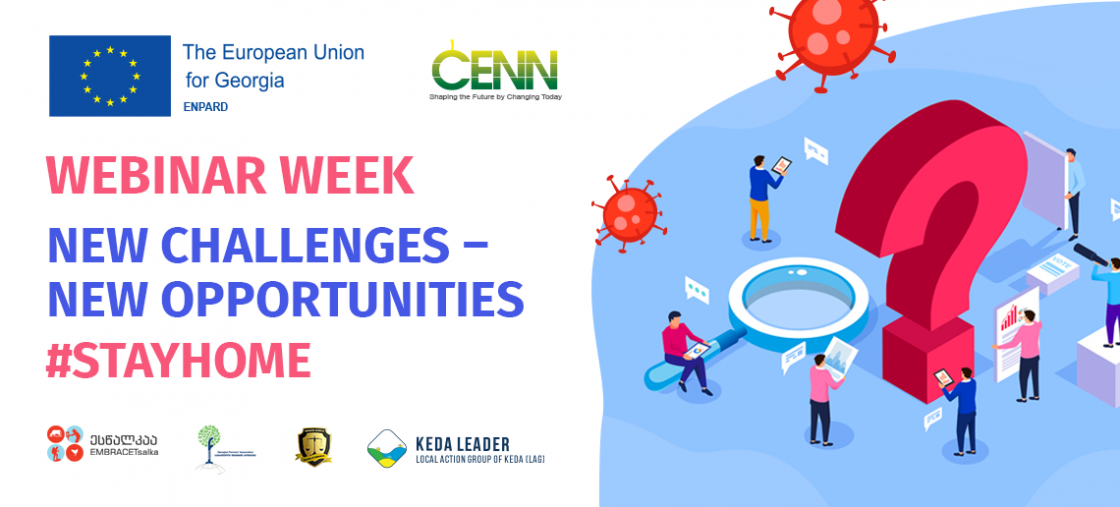 April 6-15, 2020 – CENN, along with GFA and Local Action Groups (LAGs) from Keda and Tsalka, invite you to participate in a weekly cycle of webinars: New Challenges – New Opportunities #Stayhome. The initiative is a part of the EU supported ENPARD projects "Keda LEADER" and "EMBRACE Tsalka". The webinars are designed as a response to the new challenges facing Georgia as a result of the COVID 19 pandemic. 
The webinars will be dealing with various topics in connection to the impact of COVID-19 and are applicable for everyone.  
Webinars will be conducted on the following topics: 
April 6

, Monday, 12:00 – New Challenges and the Digital world 
Speaker: Muro Takalandze, Ilia State University
April 8

, Wednesday, 14:00 – Economics and Small businesses – New Challenges and opportunities 
Speaker: Davit Keshelava, ISET 
April 10

, Friday, 14:00 – Waste Management and Upcycling Workshop
Speakers: Nino Tevzadze and Natalie Taylor, CENN
April 13

, Monday, 12:00 – Farmers' Challenges in the Covid-19 Crisis 
April 15

, Wednesday, 16:00 –

 

Agriculture in Self-isolation – the importance of utilizing new opportunities 
Speaker: Natia Ninikelashvili, GFA 
The format of the webinars is interactive and allows participants to engage and ask questions. To participate in the webinars, please register at the following link no later than April 5, 18:00: https://bit.ly/348sPRJ 
You can participate in aindividual webinars or all. 
Detailed instructions regarding how to join the webinars will be received via e-mail, 2 hours before each session. 
The EU-supported ENPARD projects "Embrace Tsalka" and "Keda Leader are implemented by CENN in partnership with the Center for Strategic Research and Development of Georgia (CSRDG), Institute of Democracy (IoD), Austrian Institute for Regional Studies and Spatial Planning (ÖIR), the Georgian Farmers' Association (GFA) and Institute for Rural Development Research (IfLS). The projects aim at diversifying local economic activities, improving the investment climate, and empowering competitive agricultural and environmental practices via bottom-up strategic planning of rural development. 

The EU is supporting agriculture and rural development in Georgia through its ENPARD Programme. Implemented since 2013 with a total budget of EUR 179.5 million, the main goal of ENPARD is to reduce rural poverty in Georgia. The first phase of ENPARD in Georgia focused on developing the potential of agriculture. The second and third phases of ENPARD focus on creating economic opportunities for rural populations that go beyond agricultural activities. More information on ENPARD is available at: www.enpard.ge.