EU-Supported Tsalka LAG Assists Local Entrepreneurs to Implement HACCP Standard
23.March.2022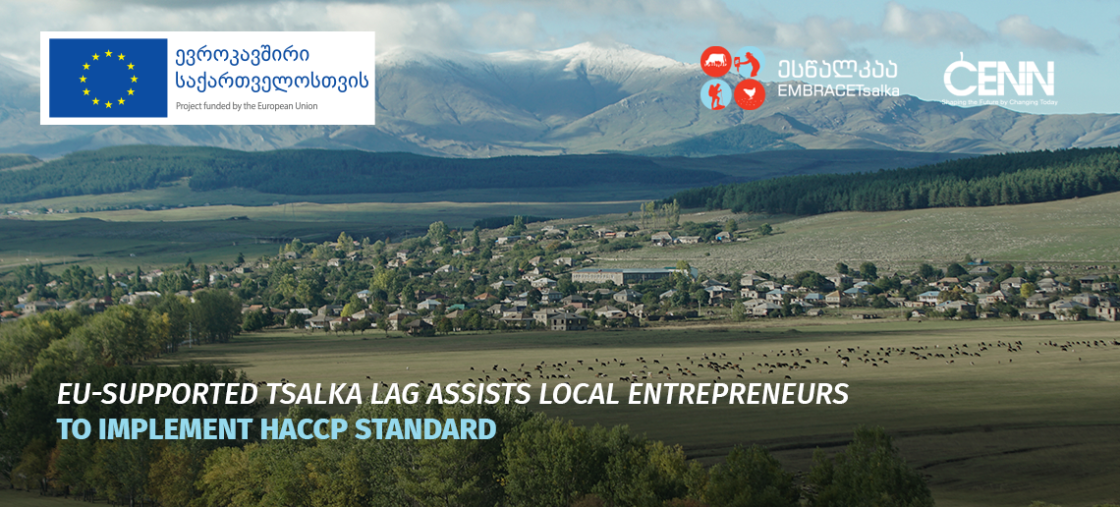 July 2021 – present, Tsalka Municipality – The EU-supported project "EMBRACE Tsalka" continues to work to strengthen the capacity and experience of local entrepreneurs. In order to strengthen local businesses, Tsalka LAG assists the entrepreneurs in introducing the HACCP standards in accordance with national legislation (approximated to EU HACCP standards). As a result, this will create new sales opportunities and possibly access European or other international markets in the future.
To introduce an international standard in 15 dairy processing enterprises in Tsalka Municipality, companies are supported in terms of HACCP standards implementation and obtaining a national certificate of recognition. As of now, 4 enterprises have passed the mandatory recognition procedure established by the legislation of Georgia and have been granted permanent or conditional recognition.
Within the framework of the project "EMBRACE Tsalka" from July 2021 until now, the following activities have been implemented:
15 field visits conducted in the field of enterprise planning / training / instruction;
1 Enterprise is in the process of planning and preparing documentation.
The "EMBRACE Tsalka" project will continue to strengthen local businesses and offer them new opportunities, which will help increase their competitiveness, both locally and internationally.
The project 'Local LEADERs Embrace Sustainable Development in Multi-Ethnic Tsalka Municipality (EMBRACE Tsalka)" aims to reduce rural poverty and improve living conditions in Tsalka municipality, addressing economic, social, and environmental concerns by improving agricultural competitiveness, promoting sustainable management of natural resources, and building climate-resilient rural economies and communities. "EMBRACE Tsalka" is implemented under the European Neighbourhood Programme for Agriculture and Rural Development (ENPARD) by EU's partner organization CENN, in partnership with the Georgian Farmers' Association (GFA) and German partner organization – Institute for Rural Development Research (IfLS). 
Contact information:
Mari Kikvadze, CENN, Communications Manager, marie.kikvadze@cenn.org