Social Evening - The Basics of Photography
07.February.2022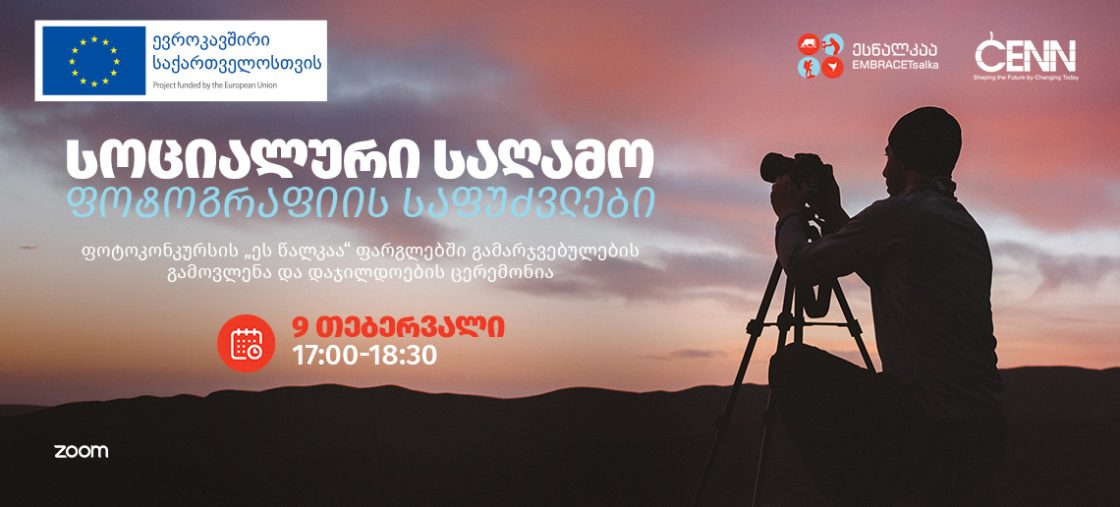 EU-supported Tsalka Local Action Group (LAG) announced a photo contest #EMBRACETsalka for the people living in Tsalka Municipality.
The aim of the competition was to popularise Tsalka municipality's nature as well as economic and touristic potential. Any citizen living in Tsalka Municipality was allowed to participate in the competition.
80 photos were submitted within the competition. Competent members of the jury identified three winners according to the following criteria: topic relevance, creativity, originality, and photo quality.
On February 9, 2022, from 5:00 pm to 6:30 pm, we invite you to attend the #EMBRACETsalka photo contest online awards ceremony to reveal the winners.
As part of the social evening, the first part of the meeting will be devoted to a photography basics session led by an experienced photographer. In the second part of the meeting, the submitted photos will be presented and the winners will be revealed.
To attend the online social evening, please register at the following link:
https://forms.gle/C6YADDqBRzVWrcQGA 
The project 'Local LEADERs Embrace Sustainable Development in Multi-Ethnic Tsalka Municipality (EMBRACE Tsalka)" aims to reduce rural poverty and improve living conditions in Tsalka municipality, addressing economic, social, and environmental concerns by improving agricultural competitiveness, promoting sustainable management of natural resources, and building climate-resilient rural economies and communities. "EMBRACE Tsalka" is implemented under the European Neighbourhood Programme for Agriculture and Rural Development (ENPARD) by EU's partner organization CENN, in partnership with the Georgian Farmers' Association (GFA) and German partner organization – Institute for Rural Development Research (IfLS). 
Contact information:
Mari Kikvadze, CENN, Communications Manager, marie.kikvadze@cenn.org