The EU-supported Tsalka Local Action Group (LAG) Board Members have been Trained on Local Self-government Mechanisms to Increase Their Competence
08.July.2020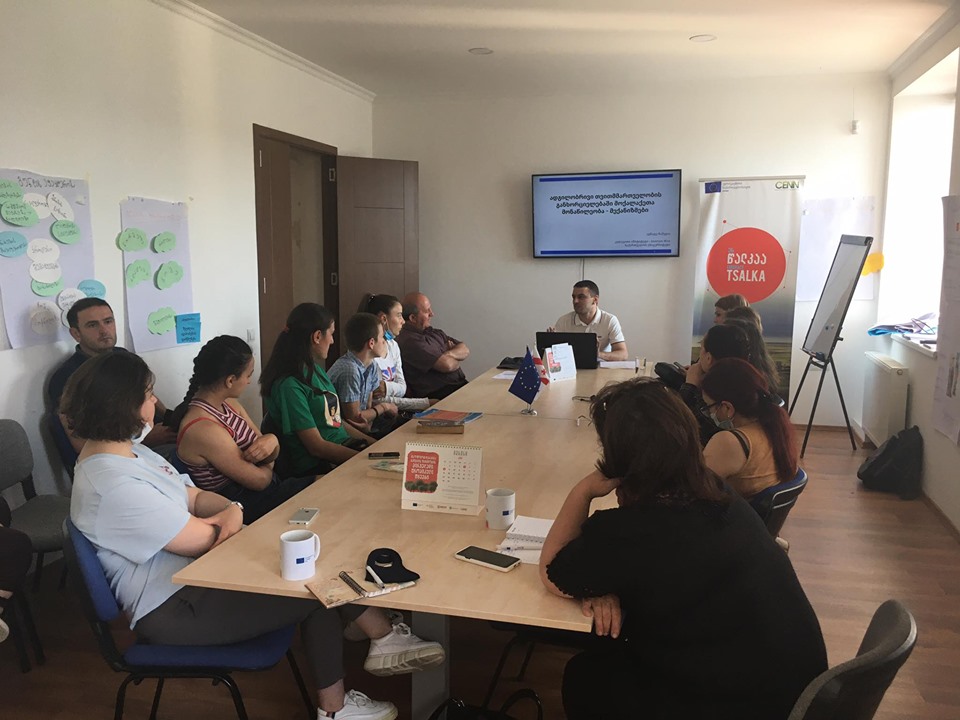 July 4, 2020. Tsalka Municipality – within the framework of the EU ENPARD-supported project "EMBRACE Tsalka", a training on different mechanisms of citizen participation in the decision-making process for the members of the Tsalka Local Action Group (LAG) and Tsalka LAG Meditation and Civic Engagement Committee (MCEC) took place. 
As one of the priorities of the EU LEADER approach is to solve local community problems through participatory planning and strengthening local involvement, the main goal of the training was to promote community involvement in solving local important issues in Tsalka Municipality. In particular, the provision of information on the mechanisms needed to involve members of the Tsalka LAG and MCEC in decision-making processes, and development of appropriate mechanisms to address local issues and solve them.
During the training, the participants became acquainted with the importance and principles of citizen participation in local self-government, important issues for decision-making and participation in local budget processes. In addition, the participants completed practical assignments about Tsalka municipality.
The training also discussed the local self-government budget figures and priorities of Tsalka Municipality and compared the budget priority needs identified by the participants in general. 
The training was attended by 19 participants. The knowledge gained during the training will be used by the Tsalka LAG MCEC to improve cooperation and advocacy with local governments and strengthen the participatory planning mechanism. 
The project "EMBRACE Tsalka" is implemented under the European Neighbourhood Programme for Agriculture and Rural Development (ENPARD) by organization CENN, in partnership with the Georgian Farmers' Association (GFA) and German partner organization – Institute for Rural Development Research (IfLS).

The EU is supporting agriculture and rural development in Georgia through its ENPARD Programme. Implemented since 2013 with a total budget of EUR 179.5 million, the main goal of ENPARD is to reduce rural poverty in Georgia. The first phase of ENPARD in Georgia focused on developing the potential of agriculture. The second and third phases of ENPARD focus on creating economic opportunities for rural populations that go beyond agricultural activities. More information on ENPARD is available at: www.enpard.ge.