The Tsalka LAG Hosted a Social Evening on Sustainable Waste Management.
05.March.2020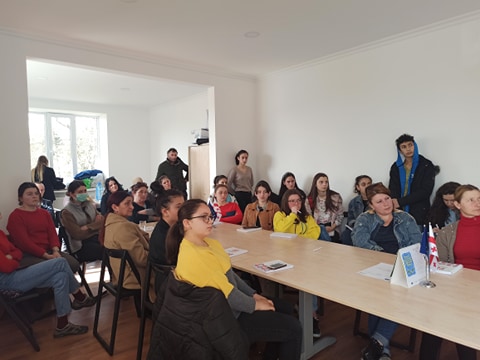 5 March, 2020 – within the framework of the EU ENPARD program supported project "EMBRACE Tsalka" implemented by CENN, the Tsalka LAG hosted a social evening on sustainable waste management.
During the event, the invited specialists talked about the importance of waste management and the existing challenges.
Within the event, participants engaged in the up-cycling activity and made the handbags from used T-shirts.
The event was attended by 30 participants and it took place at the Tsalka LAG office.
The project "EMBRACE Tsalka" is implemented under the European Neighbourhood Programme for Agriculture and Rural Development (ENPARD) by EU's partner organization CENN, in partnership with the Georgian Farmers' Association (GFA) and German partner organization – Institute for Rural Development Research (IfLS). The total budget of the project is € 2.4 million. It follows the previous EU-supported rural development actions under ENPARD in Borjomi, Lagodekhi, Kazbegi, Keda, Khulo, Dedoplistskaro, Tetritskaro and Akhalkalaki municipalities. This year, the EU has launched rural development projects in four new municipalities including Tsalka, Akhmeta, Tskaltubo, and Mestia.
The EU is supporting agriculture and rural development in Georgia through its ENPARD Programme. Implemented since 2013 with a total budget of EUR 179.5 million, the main goal of ENPARD is to reduce rural poverty in Georgia. The first phase of ENPARD in Georgia focused on developing the potential of agriculture. The second and third phases of ENPARD focus on creating economic opportunities for rural populations that go beyond agricultural activities. More information on ENPARD is available at: www.enpard.ge.