With EU Support CENN and Tsalka LAG Together Announce a Grants Competition - #StrongerTogether for Tsalka Youth
16.April.2021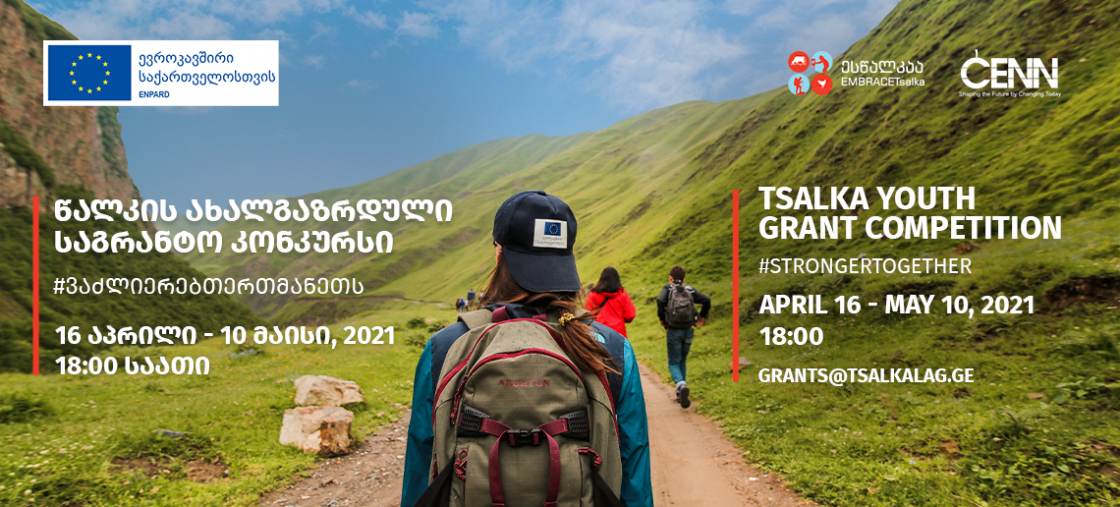 April 16, 2021.  Tsalka Municipality – Empowering rural youth and creating new opportunities for them is important for the development of our community and country.
That is why, as part of a project supported by the EU ENPARD program, CENN, in collaboration with the Tsalka Local Action Group (LAG), is announcing a grant competition #StrongerTogether for Tsalka Municipality youth, which aims to identify and fund outstanding projects strengthening skills and abilities and involving them in the life of the local community. This will provide opportunities to enable young people to respond effectively to the challenges they face in rural life.
The competition will fund the initiatives presented by Tsalka youth, which will be focused on:
Social integration;
Education, culture and sports;
Sustainable resource management;
Tourism;
Promotion of social entrepreneurship practices;
Strengthening youth engagement;
Economic diversification and improvement of living standards at the local level;
Sustainable waste management and circular economy;
Climate-smart solutions;
Green cities and transport;
Migration;
Health care.
Initiatives should be focused on Tsalka Municipality.
The maximum amount of one grant is the equivalent of 3,000 Euros in GEL.
The duration of the initiative within the given offer should not exceed 6 months.
Who can submit an application
Young people between the ages of 18 and 35 in Tsalka Municipality.
Applicants are only allowed to submit one application.
Application information
The tender initiative must be submitted according to the form indicated in the annexes:
Annex 1. Complete Design Application Form
Annex 1.1 – Activity Financial / Investment Plan (MS Excel)
Annex 1.2 – Profit and Loss Statement for Business Projects
Annex 2 – Action Plan
Application information
Applications must be submitted only online in the Georgian language. The foreign language documentation attached to the application must be accompanied with a notarized Georgian translation.
Detailed information about the competition can be found at the following link: https://bit.ly/3wXtVO1 
The application must be submitted electronically to the following address: grants@tsalkalag.ge
The subject field must indicate "EU-Tsalka – Youth Grant Competition".
Applications must be submitted no later than May 10, 2021 at 6PM. Late or incomplete applications will not be considered.
If you have any questions about this competition, please contact the following CENN representatives:
Marie Kikvadze, CENN, +995 577 95 90 20, marie.kikvadze@cenn.org
Melano Tkabladze, CENN, +995 599 54 75 79, melano.tkabladze@cenn.org
The project "EMBRACE Tsalka" is implemented under the European Neighbourhood Programme for Agriculture and Rural Development (ENPARD) by the organization CENN, in partnership with the Georgian Farmers' Association (GFA) and German partner organization – Institute for Rural Development Research (IfLS).
The EU is supporting agriculture and rural development in Georgia through its ENPARD Programme. Implemented since 2013 with a total budget of EUR 179.5 million, the main goal of ENPARD is to reduce rural poverty in Georgia. The first phase of ENPARD in Georgia focused on developing the potential of agriculture. The second and third phases of ENPARD focus on creating economic opportunities for rural populations that go beyond agricultural