The EU-supported Tsalka Local Action Group Took a Study Tour to Keda Municipality
24.June.2020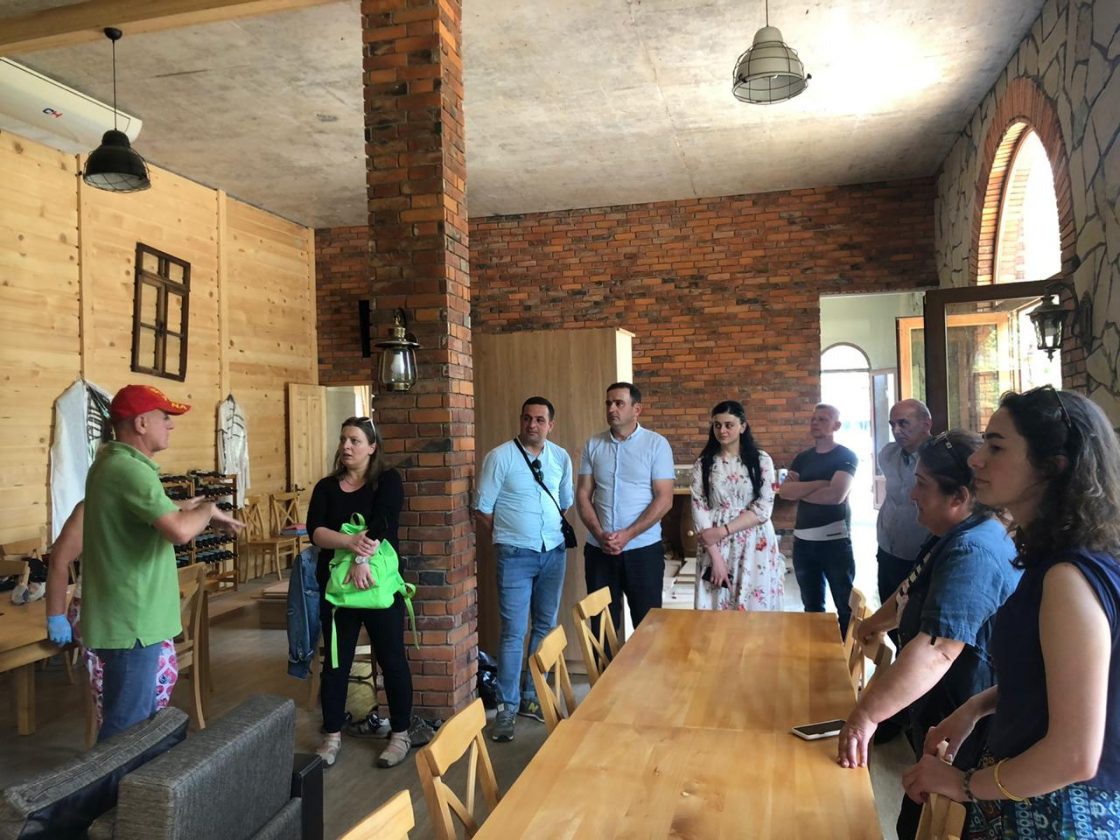 16-17 June, 2020, Keda Municipality – Within the EU supported ENPARD projects 'Keda LEADER' and 'Embrace Tsalka', a study tour was arranged for Tsalka Local Action Group (LAG) members. Within the study tour the LAG members got acquainted with the experience and knowledge of the Keda LAG. 
The aim of the study visit was to share experience based on a successful example of Keda LAG. Keda LAG members gave detailed information about their experience on the working processes, selected projects and sustainability of LAG. 
Keda LAG has successfully been leading the EU ENPARD project 'Keda LEADER' for over three years, within which over 70 beneficiaries have been financed and projects successfully implemented. Sharing the knowledge of successful experienced community members is essential for the future work and success of Tsalka LAG. 
Within the study visit, Tsalka LAG members visited over 10 projects of various sectors financed by the ENPARD programme, among which were: family wineries, guesthouses, greenhouses, trout farms, and vineyards. 
The members of the Tsalka LAG had an opportunity to get to know the financed projects in details and speak to the beneficiaries directly. As a concluding activity within the study tour, the members of both Keda and Tsalka LAG discussed opportunities of implementing activities together and agreed on future cooperation. 
The EU-supported ENPARD projects "Embrace Tsalka" and "Keda Leader are implemented by CENN in partnership with the Center for Strategic Research and Development of Georgia (CSRDG), Institute of Democracy (IoD), Austrian Institute for Regional Studies and Spatial Planning (ÖIR), the Georgian Farmers' Association (GFA) and Institute for Rural Development Research (IfLS). The projects aim at diversifying local economic activities, improving the investment climate, and empowering competitive agricultural and environmental practices via bottom-up strategic planning of rural development. 
The EU is supporting agriculture and rural development in Georgia through its ENPARD Programme. Implemented since 2013 with a total budget of EUR 179.5 million, the main goal of ENPARD is to reduce rural poverty in Georgia. The first phase of ENPARD in Georgia focused on developing the potential of agriculture. The second and third phases of ENPARD focus on creating economic opportunities for rural populations that go beyond agricultural activities. More information on ENPARD is available at: www.enpard.ge.