This Year With the Support of the EU and ADA, CENN Green Camp for Young Leaders and Innovators Hosted 120 Participants Across Georgia
17.September.2020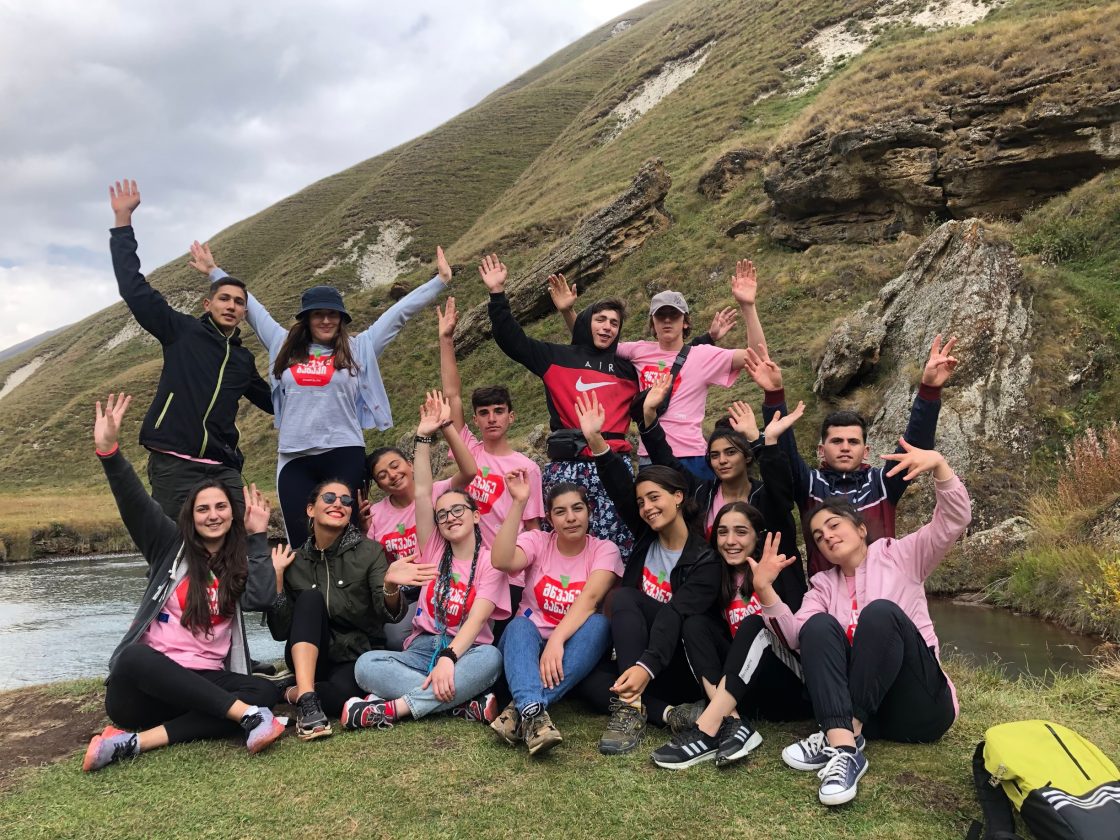 We are glad to announce that on September 16, the CENN Green Camp hosted the 9th round of Green Camps starting on July 25 at the Bulachauri Green Center. Within this period, CENN Green Camps hosted a total of 120 participants, out of which 60 were from Tsalka municipality, 20 from Keda municipality and 30 from different regions of Georgia.
Within an intensive educational module, young people were offered an interesting, fun, and educational programme with theoretical and practical workshops concerning environmental topics. In order to transfer their newly gained environmental knowledge into practice, camp participants hiked around Truso Gorge and Juta and observed natural resources in the valley.
Experts from different fields conducted classes on Sustainable Development Goals, green innovation, climate change, the sustainable management of forest resources, sustainable waste management and circular economy, water, sanitation and hygiene (WaSH) issues. Besides environmental modules, the participants were able to learn about democracy, citizenship, advocacy, digital communications and informational technologies. In addition, camp participants became acquainted with the European LEADER approach to rural development and the work conducted by Local Action Groups in Georgia.
The intensive educational program of the CENN Green Camp aims at raising awareness of the young generation on various topics and creating new possibilities for future leaders from around Georgia.
The CENN Green Camps were made possible with the support of the Austrian Development Cooperation project – Sustainable Forest Management for Rural Development and the EU ENPARD-supported Keda LEADER and EMBRACE Tsalka projects.
We are glad to welcome the participants of the CENN Green Camps 2020, who will join the Green Camp Alumni Network and be able to participate in future opportunities within CENN's environmental youth initiatives.
The project "EMBRACE Tsalka" is implemented under the European Neighbourhood Programme for Agriculture and Rural Development (ENPARD) by the organization CENN, in partnership with the Georgian Farmers' Association (GFA) and German partner organization – Institute for Rural Development Research (IfLS).
The EU is supporting agriculture and rural development in Georgia through its ENPARD Programme. Implemented since 2013 with a total budget of EUR 179.5 million, the main goal of ENPARD is to reduce rural poverty in Georgia. The first phase of ENPARD in Georgia focused on developing the potential of agriculture. The second and third phases of ENPARD focus on creating economic opportunities for rural populations that go beyond agricultural activities. More information on ENPARD is available at: www.enpard.ge.