EU Supported Tsalka Local Action Group (LAG) Joins COVID-19 Vaccination Campaign
29.October.2021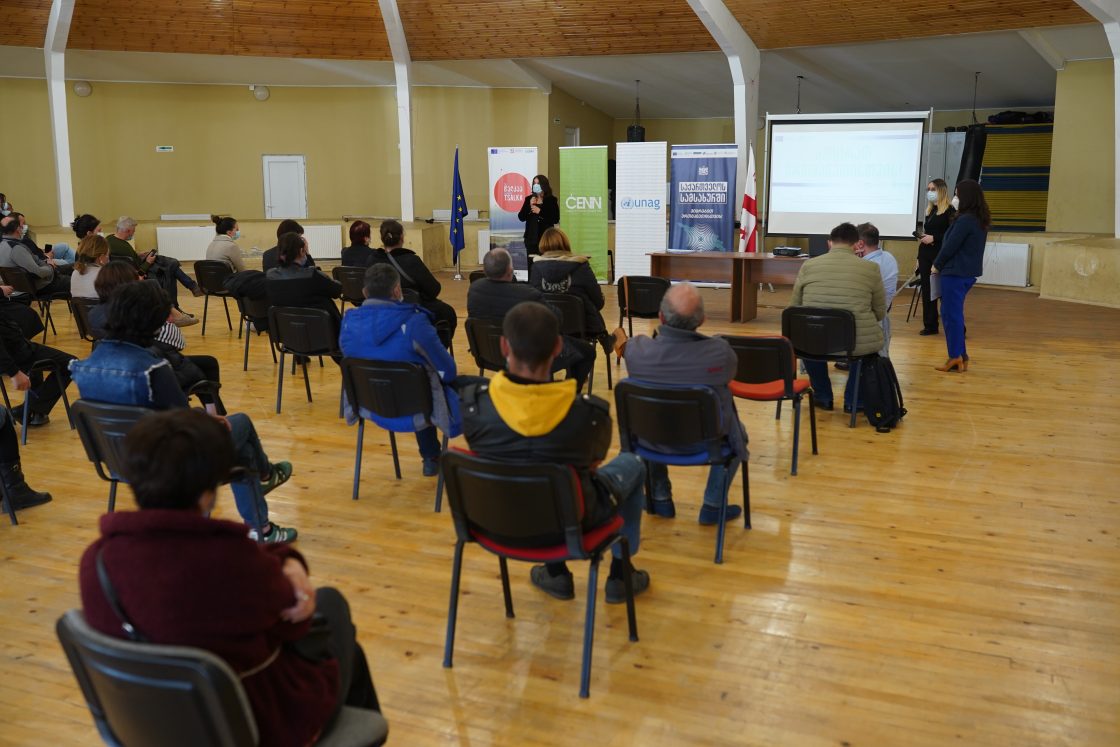 October 28, 2021. Tsalka Municipality. EU-supported Tsalka Local Action Group (LAG) has joined the information meetings concerning the COVID-19 vaccination and immunization. The meeting was supported by the European Union and World Health Organization (WHO) in cooperation with the  United Nations Association of Georgia, CENN, the Tsalka Local Action Group and the National Center for Disease Control and Public Health.  The purpose of the meeting was to raise public awareness about vaccination against COVID-19 and to popularize the importance of vaccination in the fight against pandemic.
"I hope such meetings will help us defeat the pandemic. As you see, the pandemic is not going away, precisely because there is less access to useful information that will help to make an informed decision about vaccinations. No epidemic in the world can end without vaccination. We have forgotten diseases that are not present today thanks to available vaccines. I am glad to see young people at the meeting because vaccinating the youth is crucial c. I want this meeting to be as informative and interesting as possible, and after this meeting, I want you to make a decision that is good for the health of you and your loved ones. " – Nino Sarashvili, Member of the Immunization Communication Group of the Department of Non-Communicable Diseases, National Center for Disease Control and Public Health.
The meeting was chaired by invited experts and specialists in the field of medicine, who provided the participants with comprehensive information on public health and the importance of vaccination. 
"The meetings made it clear, that people need credible information to make an informed decision to get vaccinated against the coronavirus. To this end, the UN Association's information campaign is holding meetings with the most vulnerable groups, including those living in remote villages, residents, and settlements along the occupation line, as well as ethnic minorities." – Tamta Khutsishvili, UN Association Project Manager.
About 100 residents from various villages of Tsalka municipality attended the meeting. The Tsalka Local Action Group mobilized the population from 8 villages. The meeting was held in an interactive manner, and all participants had a chance to ask questions and get comprehencive answers about the vaccination.  
The informational meeting was held within the framework of a large-scale information campaign, which is implemented within the framework of the UN Association project in the villages of five regions of Georgia – Kakheti, Samegrelo, Kvemo Kartli, Adjara and Imereti.
The project, EMBRACE Tsalka, is implemented with financial support from the EU by CENN in partnership with the Georgian Farmers' Association (GFA) and the Institute for Rural Development Research (IfLS). The EU is supporting agriculture and rural development in Georgia through its ENPARD Programme. Implemented since 2013 with a total budget of EUR 179.5 million (2013-2022), the main goal of ENPARD is to reduce rural poverty in Georgia. More information about ENPARD is available at: www.enpard.ge 
Media Contact:
Mari Kikvadze, CENN, Communications Manager, marie.kikvadze@cenn.org